Press release from Startup Estonia
The Estonian Startup Visa has helped close to 500 startup founders and 1350 employees to relocate to Estonia to either work on their companies or to work for an Estonian startup. Let's dig into the more exact statistics and the value they are creating. 
A little more than a month ago we celebrated the 3rd birthday of the Estonian Startup Visa. When the programme was launched in 2017, our expectations were humble (as is customary for Estonians, obviously) and we didn't expect more than 50 applications for the Startup Status (a special status, which gives the eligibility for a company's founders and employees to apply for the D-visa or Temporary residence permit). In one year, however, the Startup Committee's 7 members*(list in the end)  had to assess 325 applications. In the second year, the number of applications already reached over a thousand, and we saw a hockey stick growth in the applications for the Startup Status as well as the number of people actually relocating to Estonia (931!).
Now, in the beginning of a new decade, the Estonian Startup Visa keeps on thriving. Let's dig into the numbers of relocated companies, employees and the value they are creating.
LEARN MORE ABOUT THE ESTONIAN STARTUP VISA
The Status making it possible to move to Estonia
The very first step in the journey for a startup to relocate their founders and/or employees to Estonia is applying for the Startup Status. It sounds easy, but it takes more than just applying and flying to Estonia. The Startup Committee looks carefully into the business plans and accomplishments of each company. Early-stage startup companies with innovative and repeatable business models and with global growth potential are welcomed to apply. We want to see all the companies which relocate also to succeed in Estonia, so the Committee assesses companies critically. Check out the FAQ of Estonian Startup Visa.
Altogether 1972 companies have applied for the special Startup Status since January of 2017. The success rate of companies applying, however, has been steadily decreasing from 43% in 2017 to 20% in 2019.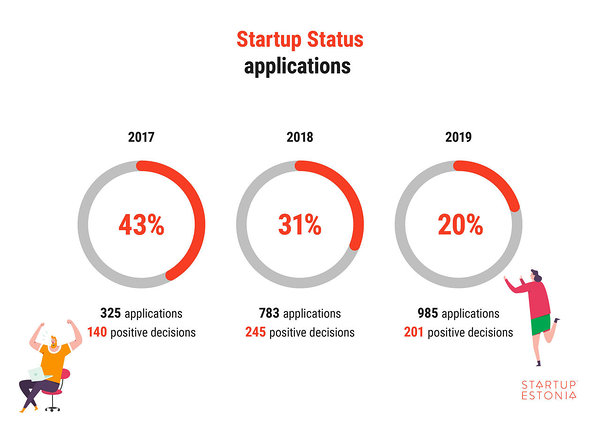 The decrease in the success rate is only logical since we have had a huge increase in the volume of applications from all over the world. Today we have almost 2000 applications from 99 countries where the term "startup" may differ greatly. There are countries like Estonia where startups are exclusively tech companies, with a scalable product. However, in some countries, the term "startup" applies to all kinds of starting enterprises. This may be one of the reasons the success rate has decreased over the years, but it is definitely not a bad thing. Rather, it shows the Committee is looking for quality and seeing that the Status goes to companies who will be viable in the Estonian startup ecosystem.
"The Startup Status is not something that every company has the right to get. The Startup Committee is quite strict and we look very closely at the accomplishments and viability even at an early stage. The Startup Status is a very big privilege to companies and the companies who receive it have worked hard on their businesses and also showing the work in their applications." adds Merilin Lukk, Startup Visa Project Lead at Startup Estonia.
Global founders
Over 200 startups in the Estonian Startups Database are founded with the help of the Startup Visa. This means that at least one of the founders is from outside of the European Union. It is crucial to point out, however, that more important than the number of these startups, is the increasing value they create in our ecosystem. These are companies that pay government taxes and employ hundreds of people, and we see the numbers rising year after year.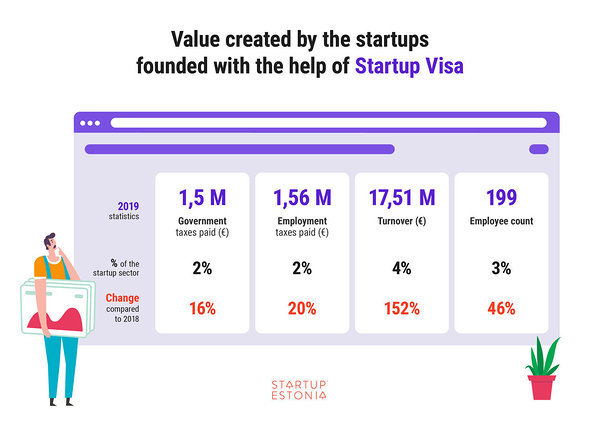 Since 2017 close to 500 people have relocated to Estonia as founders of their startups. Most of the founders come from Russia, India, Turkey, but in the top countries, we also see Ukraine, Iran, Pakistan and Egypt.  The top activities for these startups coincide with the overall Estonian startup sector. There are 43 startups in Business software & HR, 35 in AdTech & CreativeTech, 25 in Consumer products & services and 22 in FinTech.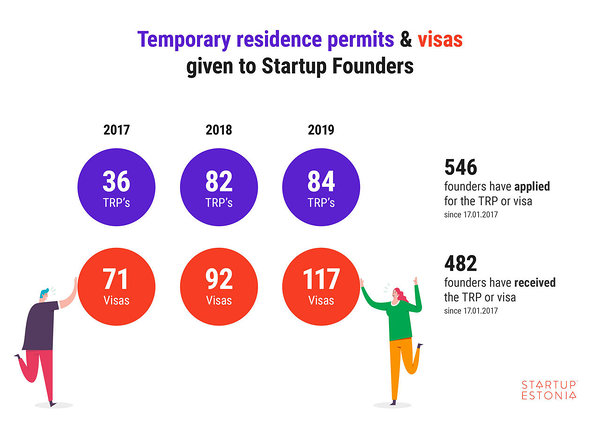 Besides the ease of doing business and infrastructure the government has been developing and providing, the founders relocating to Estonia see other valuable factors about living in Estonia and being a part of the ecosystem. It is also great to witness that more e-residents are discovering the Estonian startup sector and wanting to become a part of it physically.
"Even though e-Residency is a great starting point for early-stage founders, being able to actually work in Tallinn with the Startup Visa makes a huge difference – minimal time gets wasted on your commute and dealing with bureaucracy, maximum time can be dedicated to building your business. The ease of access to other founders and experienced entrepreneurs is also fantastic in Tallinn. Not to mention you can also hire great non-EU employees with Startup Visa! We love it!" Kirill Soloviev, CEO & Co-Founder of ContentQuo comments.
Diversity of employees
There are many companies that have benefitted from the Estonian Startup Visa. Altogether 1351 employees have relocated to Estonia to work in Estonian based startups. In 2019 the top 5 countries that were represented in the visa and temporary residence statistics were Russia, Brazil, Ukraine, India and Iran. Russia and Ukraine have been in the top 5 since 2017, but in 2019 we saw an increase of employees coming from Iran and Brazil. Altogether 701 people received the visa or temporary residence permit to relocate to Estonia in 2019, which is significant growth from 483 in 2018 and 167 in 2017.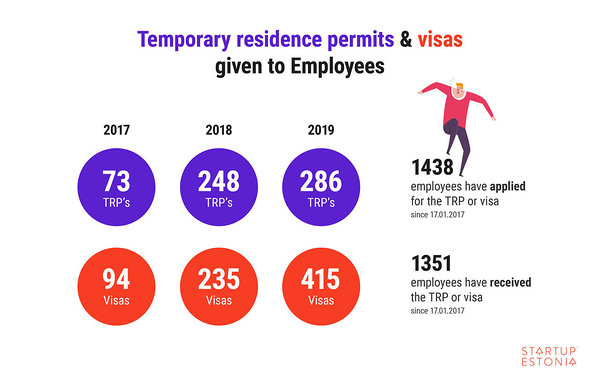 In future posts about the Estonian Startup Visa we will give you more information about Estonian startup companies and their experiences, starting off this time with Pipedrive shedding light about their journey with the Estonian Startup Visa. Although this is only one example of a company recruiting people from abroad and using the Startup Visa, we can say with certainty that Pipedrive's example is not an exception but rather becoming a rule.
Since the beginning of the startup visa program in 2017, Pipedrive has recruited 64 highly paid IT professionals with the Estonian Startup Visa. In 2019 alone, 52 foreign specialists from 25 countries all over the world joined the company. Today, almost 40% of Pipedrive's employees in Tallinn and Tartu offices are foreigners, representing 49 nations.
Sergei Anikin, CTO of Pipedrive comments: ''In Pipedrive's experience, a startup visa is one of the most important steps the state has taken to support and promote our IT sector. Global recruitment is the only opportunity for local tech companies to grow, because the job needs to be done and it is especially difficult to find specialists with specific skills in Estonia, such as data engineers. However, IT-companies have a great need for talent in other areas too, in our case, for instance, in product management, design, marketing, and even customer support. Diversity is a major competitive advantage and an important prerequisite for successful operations in foreign markets. Without our international employees, Pipedrive would not be where we are today – helping more than 92,000 sales teams in more than 150 countries.''
For employees coming to work in Estonian startups, the process of relocating is mainly executed by the company itself, but they are still individuals who have to get used to a new country and culture. Mona Sangtarashha, a Product Manager from Iran who joined Pipedrive in October 2019 says "After my first four months in Estonia, I can say that the local people here are really kind and helpful. It is great to work in a country that accepts all nationalities and religions."
Bureaucracy is often involved in the process of relocation. Of course Estonia is not 100% free from it, but handling it is made easy for people."Compared to other EU countries, the procedure to work and settle in Estonia is surprisingly hassle-free and responsive." adds  Romario Suwandy, Communications Designer from Indonesia, in Pipedrive since March 2018.
Head of Startup Estonia, Maarika Truu is certain that the employees who relocate here increase the valuable input of the startup sector to the Estonian economy: "We can't deny or underestimate the role of the foreign employees. One-fifth of employees in the Estonian startup sector are foreigners and often top specialists with very specific skills. That's why it is crucial for Estonia to continue to be an open and attractive country to talent so our companies don't feel the need to leave because they can't find employees here."
To 2020 and beyond!
The year leading Startup Estonia to the new decade has been full of significant landmarks for us. Our main victory without a doubt was launching the Estonian Startup Database with more than 1000 startups in the ecosystem. Our means of gathering, analyzing and presenting the data have improved and will continue to do so in the new decade. And it will definitely have an impact on the improvement of all our programmes, including the Estonian Startup Visa!
LEARN MORE ABOUT THE ESTONIAN STARTUP VISA
* Startup Committee consists of following organizations: Startup Estonia, Garage48 Foundation, Superangel VC, Tehnopol, Estonian Startup Leaders Club, Startup Wise Guys, Estonian Business Angels Network. 
Sources: Startup Estonia, Statistics Estonia, Estonian Tax and Customs Board, Estonian Startup Database
Data crunched by: Moonika Mällo (Startup Estonia)
Blogpost written by: Merilin Lukk (Startup Estonia)
Graphs by: Kristjan Prik (MadeBY)
—
Date of publication: 5 Mar 2020
Announcements are published as a service to readers. The sender is responsible for all content.
Announcements for publication can be submitted to kevin@thehanseatic.com.