Press release from Startup Estonia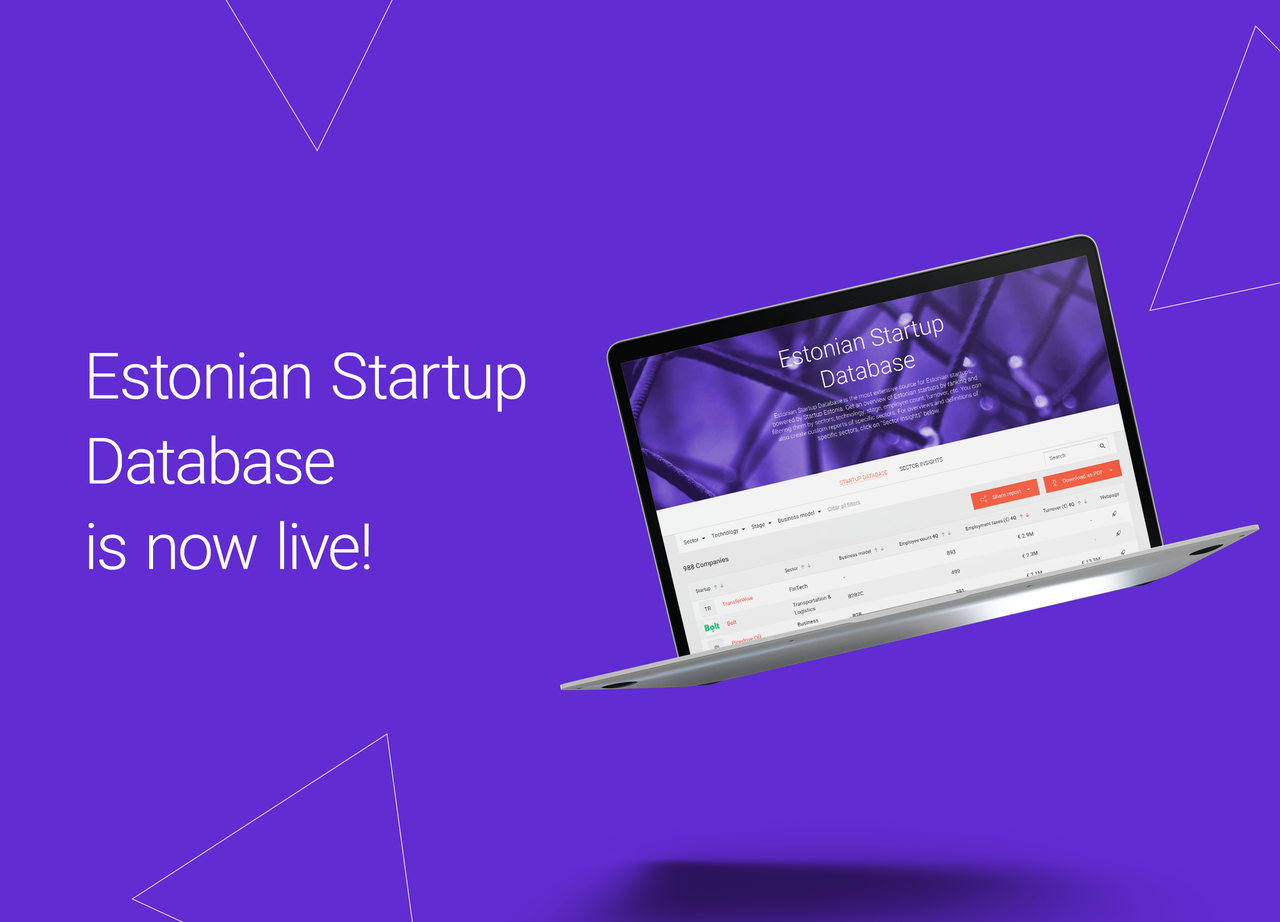 Estonian Startup Database, that we have worked so hard on for the past year is finally live. It is the most extensive source of Estonian startups, powered by Startup Estonia.
Since 2015, Startup Estonia has been actively developing our startup ecosystem as an umbrella organisation, in order to be the birthplace of many more startup success stories. As a part of it, for the past 3 years, we have been managing the data of Estonian startups and creating biannual overviews of our startup sector. Every quarter, the statistics are getting more extensive and lately, we have been covering stats of different sectors, including average salaries in each one separately, data that illustrates the diversity in the startup sector etc. Keep an eye out for our yearly overview of 2019 in mid-February!
To have the most recent overview of the whole startup scene, we wanted to take things to the next level. We had a dream of an open, interactive database of all the startups in Estonia. So we created it.
What makes it unique?
Look, we know about the other database solutions out there. We looked into all of them. Some of them have really great UX and are really useful for certain aspects. But that wasn't enough for us. We needed a database that would easily subtract a wide range of data from our national Estonian Tax and Customs Board and would be the basis of obtaining data from e-Business Register and Statistics Estonia. So additionally to the value,it provides for all of the startup community, it helps us to monitor the whole startup sector.The Estonian Startup Database will be constantly updated and we want this to be a collaborative project. So we rely on startups to update their profiles regularly and new startups to let us know about themselves. Together we are stronger.
1000 startups ??!?!!
Estonian Startup Database to this date holds the data of 989 Estonian startups. In the last recap, we counted around 650 startups in Estonia. Seems like a crazy growth, right? Well, in addition to the sector growing really fast, our means of collecting the data have improved. Our Startup Sector Monitoring Manager, Moonika, has done an amazing job scraping through the data of countless companies and verifying them (a big round of applause for her!). Also, we've partnered up with Startup Includer for the backend of our database and have discovered a lot of startups in the process.
Co-founder of Bolt and the president of Estonian Startup Leaders Club, Martin Villig points out, that the updated database creates the basis of strengthening and growing our startup ecosystem. ''Estonian startup sector/ecosystem has continuously grown 30% for quite some years now, contributing more significantly to our economy. Estonian Startup Database supports that – the startups joined with the database are visible to potential investors, clients, cooperation partners and the community'', he adds.
That's cool. But what's in it for startups?
As Martin pointed out, by joining the database, startups will be visible to potential investors, industry partners and the community. Startup Estonia's website gets around 15 000 monthly visits, with the database being the most popular landing page. In addition, Startup Estonia, as the central organization for our startup ecosystem, is using the database as a reference tool across the world. By joining, startups have the option of getting up to date offers for their specific industry.
All Estonian startups are welcomed to join. Estonian startups are technology-based businesses registered in Estonia, not older than 10 years, have a goal to develop and launch an innovative and repeatable business model with global growth potential. Read more on how to join or how to update your information.
How about investors, industry partners and the community?
In short: You can get an extensive overview of Estonian startups. You can rank the startups by different stats: employee count, employment taxes paid and turnover created. Play around in the database and filter the startups by specific sectors, technologies used, different business models and stages of the startup.
That's not all. You can also create custom reports and download them. Want to have a list of Estonian CleanTech startups? Done! Fintechs using Machine Learning as their technology and are in MVP/Seed Stage? No problem. The possibilities are endless. Read more about it here.
What's next?
Have fun with the database! Rank the startups, filter them, create custom reports. If you are a startup and you're not in the database – check out how to join. And startups already in the database – please help us by keeping your profile updated. Only this way, working together, can we maintain the high quality of the Estonian Startup Database.
Blogpost by: Sander Sillavee, Marketing & Partnerships Lead at Startup Estonia
Cover image by: Kristjan Prik, MadeBY
—
Date of publication: 24 Jan 2020
Announcements are published as a service to readers. The sender is responsible for all content.
Announcements for publication can be submitted to kevin@thehanseatic.com.